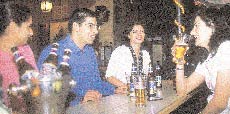 At pebble street, The strobe-lit restobar in Delhi's New Friends Colony, pubcrawlers love the barman's staple-beer. From his bar stool, owner Ashish Ahuja loves the sight of them downing mug after mug. The cash registers ring.
Ahuja's head is singing: "Beer's cool. Earlier, snobs liked only premium Scotch. Today, beer's more fashionable than Scotch." To tap its popularity, the pub has thrown in beer-based cocktails like Bloody Beer (with tomato and Tabasco) and Michilada (spiked with lime). On a normal day, Pebble Street may sell-just about-two bottles of Bacardi rum, but over 200 bottles of beer easily.
The "mild, alcoholic beverage, not alcohol", as Zinia Lawyer, president of the All India Brewers' Association (AIBA), calls it, is in for a heady summer. After a flat growth in the 1990s, beer sales have picked up in the past two years. And the current year is likely to be even better (see graph).

Beer has also had a more socially legitimate image makeover. "It's casual, like a soft drink," insists Ahuja, who's planning an exclusive beer-drinkers club in Delhi like Bangalore's bait (Beer Drinkers Association of Information Technology) Club that once had geek gurus Pradeep Kar (Microland) and Nandan Nilekani (Infosys) as members.
Some, like V. Harinath, a 24-year-old software engineer in India's first beer city Bangalore, even calls beer a "health drink". There are other sobriquets: aperitif, warm-up liquid, social icebreaker, thirst quencher.
Which is why, unlike other liquors, beer's retail potential seems unmistakable. The Connaught Place outlet of Pizza Hut in Delhi sells 70 pint-sized bottles of Foster's beer (330 ml, Rs.75) every day. "It's no longer a taboo to drink during office hours," says outlet manager Sandeep Dutta.
Executives are now guzzling beer with their lunch. "Even families look at beer as an alternative to fizzy colas," he says. Vivek Bakshi, restaurant manager at the Grand Hyatt, admits that "beer is the most popular beverage, driving 60 per cent of sales" at the hotel's specialty Whiskey Bar!
Beer makers are seeing heady days ahead because it's the young who are turning more "beerish". So Foster's has beer and barbecue weekends and screens Formula One races at pubs; Shaw Wallace's Hi-Five Premium Lager is "a tribute to the sprit of youth" and United Breweries' (UB) Ice is a premium youth lager brand in the south.
"The future of Indian consumption lies in the youth," says Aman Dhall, whose company Brindco Ltd introduced Mexico's Corona beer in Delhi in August last year, pitching it as a youth brand. Now, Dhall is launching two Irish beers- Guinness and Kil Kenny.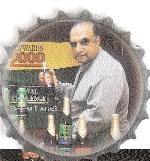 The Rs.2,200-crore beer industry, which was almost stagnant between 1997 and 2000, has been in reasonably high spirits since then, clocking an annual growth of 6 per cent and above.
At least four brands have been launched in the past eight months and six more are likely to enter the market in 2002. The two foreign majors – Australia's Foster's and South African Breweries (SAB) – are consolidating their presence.
"The Indian beer market has great growth potential," points out Richard Rushton, managing director, SAB, which launched Castle Lager in February 2002. "Beer has a far greater propensity to become a lifestyle product and aspirational beverage than alcohol," he says.
SAB had gone on a buying spree when it started commercial operations in India in October 2000. The company swallowed Mysore Breweries Ltd, and consequently its top strong beer brand Knock Out. It also launched Three Lions in September 2001.
Foster's, India's first foreign player, is set to launch Amberro, a strong beer brand. India ma jors like Shaw Wallace and ub, which account for over half the beer drunk in the country, are bucking up too.
Shaw Wallace plans to launch three beer brands this financial year, while UB-owner of the Kingfisher brand-will tie up with foreign beer major Scottish & Newcastle.
The industry is also witnessing a paradigm shift: a growing preference for strong beer (7 per cent alcohol) overmild beer (5 per cent alcohol). The oxymoronic "strong beer" – characteristically, beer is only meant to be light-is an emerging Indianism.
The ratio of mild to strong beer in India shifted from 66:34 in 1993-1994 to 39:61 in 2000-1. "Strong beer is seen as a value for money," explains Deepak Chaudhuri, director, Shaw Wallace Breweries.
Adds Pradeep Gidwani, managing director of Foster's: "The sales of strong beer have gone up compared to that of mild beer because it offers a kick at a decent price. With mild beer sales declining, we are left with no choice but to introduce Amberro."

While 65 per cent of the total alcohol consumed in the US is beer, in India the figure is 5 per cent. If the beer industry's past growth does not match the level of current action and foreign interest, there are reasons for that, the primary one being complicated taxation that varies from state to state.
Grumbles Vijay Chopra, regional business manager (North), Foster's: "Each state has its own mandate that keeps changing every day."
Beer is yet to become an FMCG (fast moving consumer good) in India. In China, which consumes about 18 litres per head against India's 0.5 litres, one can pick up beer at petrol pumps and department stores.
The AIBA has made a representation to the Union Government claiming that beer is a "beverage" and an "agro-product". Though classified as a food item under the food processing industry, beer attracts levies equal to those on hard liquor in India.
Perhaps such stringent laws were the reason two foreign beer brands San Miguel from the Philippines and Haake-Beck from Germany left the Indian party early.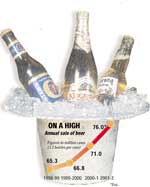 But the changing outlook of a few state governments has come as an impetus to the industry. For instance, last year, after Uttar Pradesh delinked beer from spirits, the state reportedly recorded a 200 per cent increase in sales.
The S.M. Krishna Government in Karnataka was ready to introduce a policy granting licences to 300 department stores in the state for sale of bottled beer last year, but in the face of criticism from within and outside the government, had to limit the licence to 100 stores in Bangalore.
"Beer needs to be psychologically differentiated from liquor," argues Chaudhuri. "Low taxes will help shift consumption from cheap spirits to beer and promote responsible drinking."
If the complicated tax structure hasn't dampened the industry, it's because India is seen as a conducive place to promote beer-warm climate, increasing westernisation, consumerism and a young population that's predisposed to beer.
Says Gidwani, "All the key drivers for growth are in place. The shift from brown spirits to whiskeys to wine to beer is in line with international trends. Beer is seen as a soft drink, people are drinking in public places; sons are drinking with their fathers. There's no other way but up for per capita consumption."
Clearly, beneath the fine collar of froth, there is excitement brewing in the industry. And for the consumer, as he reaches for the season's mug of cheer, it's bottoms up as usual.
Please follow and like us: