Nutrition and health have become fundamental components in today's day-to-day life. A healthy eating routine is no longer just a result of sickness, instead is a significant determinant of future well-being. People are now becoming aware of wellness, and what a healthy lifestyle is about. From time to time, people look for expert nutritionists and dietitians to help them stay healthy and sound. Hence, this sector can benefit you personally and be an income source for you. Many people are being hired professionally by medical clinics and hospitals.
A proficient Nutritionist offers direction to individuals, families, and associations on the best way to change food, way of life, and attitude for ideal well-being progress. Being a part of this industry, you not only help yourself but a larger section of society. You can opt for many specializations which can set you up for many promising professional careers. Here are some of the prominent reasons that this field is gaining immense popularity:
Identifying the issues concerning nourishment and dietetics in various areas of society.
Devising monetarily, socially, and mechanically suitable techniques to control dietary and nourishment issues confronting the country.
Educating wellness and government bodies on issues connected with nourishment.
Emerging with popular organizations and the board strategies to screen dietetics and nourishment.
To help researchers by energizing research on advancing healthy diets and nutrition.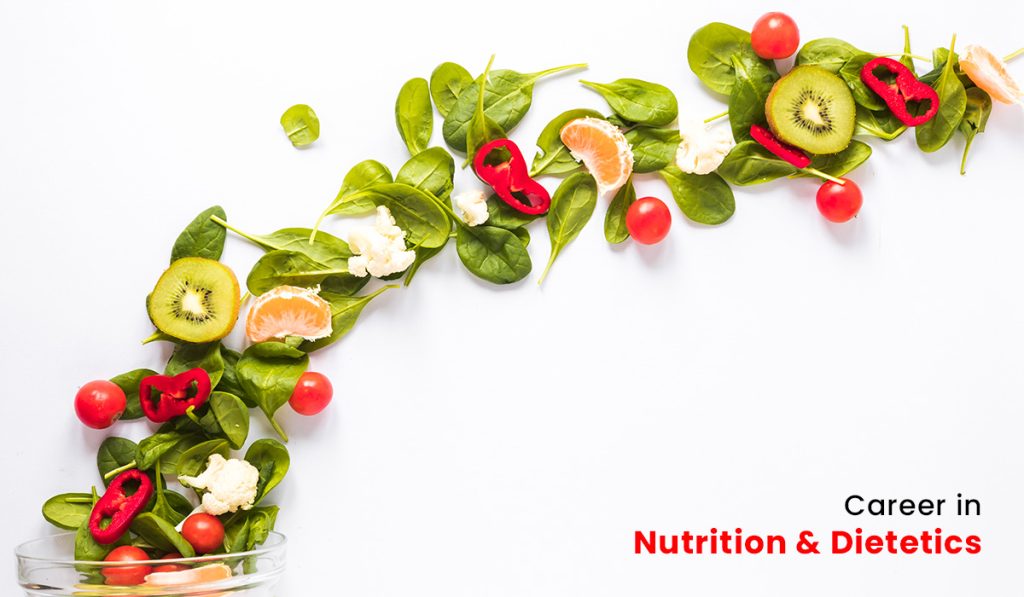 After completing 12th, to become a nutritionist or dietitian, an understudy can seek a B.Sc. course followed by M.Sc. in nutrition if you want to go for higher studies. People who don't have much time for investing or have completed basic education can look forward to joining a diploma or PG diploma in the field. Each of these courses has its extent of filling in as a Nutrition and Dietetics.
The course focuses on three fundamental territories: food science innovation and research, food handling and quality, and nutrition. Everyday work can expand across wide domains like dietary organic chemistry, human physiology, food creation, food science and investigation, food innovation and preparing, item improvement, and components of general well-being.
There are various professional roles for you after the successful completion of a dietetics course, such as:
● Clinical Nutritionist
Clinical nourishment is one of the significant orders of this course. The focal point of the field is to investigate and gain increasingly more logical information to treat irresistible and non-transferable infections through restorative weight control plans and developments. They even have the freedom to be an enrolled dietician.
● General Wellbeing Nutritionist
This role centre around general medical conditions concerning food and nutrition, like Paleness, Diabetes, Iodine inadequacy, etc.
● Sports Nutritionist
Sports nourishment manages explicit sustenance necessities and rules of sports players relying upon the class of sports. Nutritionists are needed for sports preparation, exercise centers and wellness focus. They can be famous game players or regular exercise centre participants.
Read More Blog Post:
Follow these Simple Yoga Tips to curb your Anxiety
How to Maintain a Healthy Lifestyle with Ease?
Please follow and like us: