Are you considering a career in digital marketing? The demand for professionals skilled in utilizing technology and the internet to promote businesses is on the rise. But what does a digital marketer exactly do and what qualifications are necessary for the job?
In this article, we will delve into the duties and responsibilities of a digital marketer and provide helpful resources for those interested in pursuing a career in this thriving field.
Who is a Digital Marketer?
The role of a digital marketer is to promote products or services to a target audience using online platforms and strategies.
This includes tactics such as email marketing, social media marketing, and pay-per-click advertising, as well as traditional forms of online advertising like banner ads and search engine optimization (SEO).
Digital marketers analyze data and metrics to track the effectiveness of their campaigns and make data-driven decisions to optimize them.
Roles and Responsibilities of a Digital Marketer
The responsibilities of a digital marketer can vary depending on the organization they work for, but generally include:
Developing and executing marketing campaigns that reach and engage the target audience. This includes creating social media posts, email campaigns, and online ads.
Evaluating the success of marketing campaigns through metrics such as website traffic, conversion rates, and social media engagement to optimize future strategies.
Managing company social media accounts and engaging with followers.
Ensuring that a company's website is optimized and that valuable content is created to appeal to and connect with the intended audience, as well as rank highly in search engines. This may involve keyword research, on-page optimization, and creating various types of content.
Managing email marketing campaigns, including creating templates, segmenting lists, and analyzing performance.
Managing PPC advertising campaigns on platforms such as Google Ads. This includes researching and selecting keywords, creating ad copy and landing pages, and optimizing campaign performance.
Collaborating with cross-functional teams such as sales, customer service, and product development to align marketing efforts with business goals.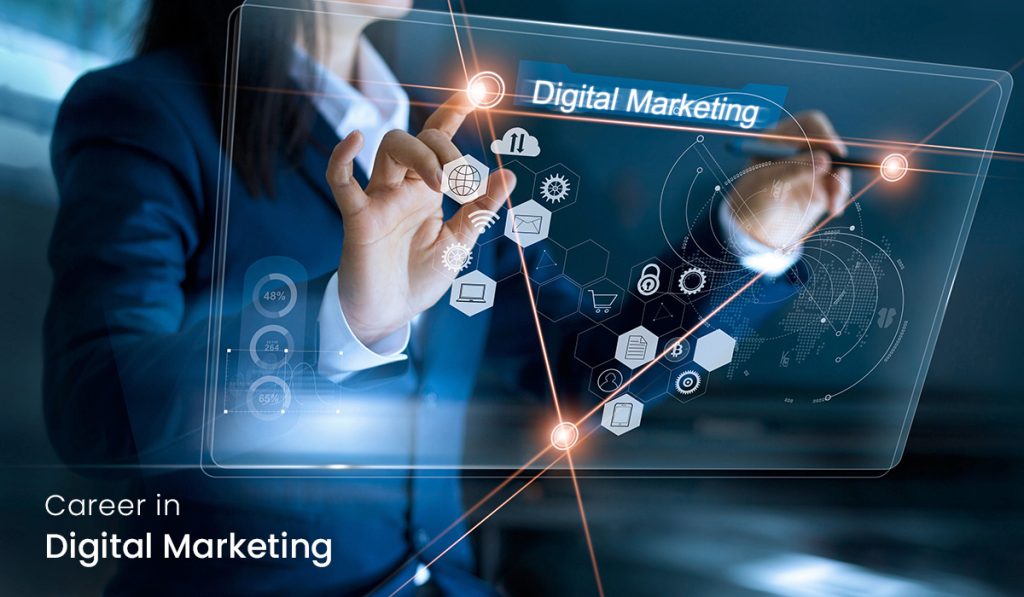 Skills and Qualifications for a Digital Marketer
To be successful in digital marketing, you'll need a combination of technical and creative skills. These include strong writing and communication skills, data analysis skills, creativity, and technical skills.
Depending on the specific role you're in, you may need to have experience with tools and technologies such as analytics software, social media platforms, or content management systems.
Digital Marketing Career Paths
There are many potential paths to take within the field of digital marketing. Some common job titles include:
Digital Marketing Manager: responsible for planning and implementing a company's digital marketing strategy.
SEO/SEM Specialist: focuses on improving a company's online presence through search engine optimization and search engine marketing.
Social Media Manager: in charge of managing a company's social media accounts and creating engaging content.
Content Marketer: creates and distributes valuable, relevant, and consistent content to attract and retain a specific audience.
Email Marketing Specialist: responsible for creating and managing email marketing campaigns, including creating templates and analyzing performance.
PPC Specialist: manages pay-per-click advertising campaigns on platforms such as Google Ads, including researching keywords and optimizing campaign performance.
Digital Marketing Courses and Programs
If you're interested in a career in digital marketing, you may be wondering what educational options are available. Here are a few options:
Online marketing academies: There are several academies that offer free online courses in digital marketing, including courses on research algorithms and other marketing tools. Some of these academies also offer certification programs.
MOOCs (massive open online courses): Some great platforms offer a range of digital marketing courses from universities and institutions.
Conclusion
Digital marketing is a rapidly growing field with endless opportunities for those with the right skills and qualifications.
If you're interested in pursuing a career in digital marketing, consider acquiring the skills and experience mentioned above and consider the various career paths available to you. With hard work and dedication, you can make a successful career in this exciting and dynamic field.
Related Blogs
Career Options in Digital Marketing
Why is Digital Marketing a Good Career?
Cool Instagram Features You Must Know About
What Is SEO And How Do Businesses Use It?
7 Benefits of Digital Marketing That May Change Your Perspective
Please follow and like us: